OPERATION GRAVEL RASH - 30 MARCH 2018 - @ 9PM NSW TIME
** All players welcome - RSVP REQUIRED - populated to calendar **
Online Combat Battalion has deployed to the Aliabad region search for and destroy a terrorist group that has planned and attempted to execute attacks on civilian targets on Australian soil. This has taken priority over other commitments in the European region of Chernarus,
where OCB Combat Teams were previously deployed.
SITUATION:
The Brotherhood of Jihad (BOJ) has moved into the region after being pushed from their normal operating bases in Iraq into Syria. With the Iraqi Kurds then successfully forcing them out of Iraq into Syria. The BOJ moved into the northern part of Syria, where they were then decimated by Iraqi and Kurdish forces and moved north to the Aliabad region of north eastern Syria. Since establishing in the Aliabad region they have managed to rebuild their capability and are now again actively training local disaffected males for combat and suicide missions.
TOPOGRAPHY:
Aliabad is a small region in the north eastern part of Syria.
It is an arid region with limited access to water.
Electricity is provided by diesel powered generators and solar power only.
The terrain is mostly small rises and valleys and there is little vegetation.
It is the annual storm season within the region. Weather is expected to be poor with low visibility.
INTEL:
The BOJ have been linked to terror cells within Australia via telephone and other digital communications intercepted by Australian law enforcement agencies. Several plots to harm Australian civilians have been thwarted by police and their are members of this group incarcerated as a result.
Their leader Mohamed EL ISLAM was part of the Iraqi insurgency against US forces, commencing his activities in 2007. EL ISLAM was a member of the Madhi Army (Iraqi terrorist collective) and rose through the organisation to be a leader and trainer of new recruits. After the formation of the new Iraqi government, EL ISLAM was present at the initial formation of ISIS to resist the oppressive Shia regime, which targeted Sunni leaders and civilians.
EL ISLAM has been linked to a number of the most brutal war crimes ever recorded including mass executions of men, women and children. BOJ under the leadership of EL ISLAM has received funding from the production of heroin flowing from Afghanistan under the noses of the Taliban warlords.
In 2015, EL ISLAM sought to branch out and expand by approaching the Taliban leadership in Afghanistan, however due to his extreme violence even the Taliban rejected his approach. The Taliban has placed a bounty of $50,000 USD on EL ISLAM's head, as he eats into Taliban drug distribution profits, and according the the Taliban, EL ISLAM is "Damaging the name of Islam, even to other Muslims."
Due to Russian support for the Syrian regime, BOJ has had to contend with Russian Special Forces elements in the region who routinely attack his operational bases. Although the Russians have the same objectives as Australia in relation to BOJ, they are not pleased with our presence in the region, although they are non combative towards our forces.
BOJ forces consist of lightly armed troops with small arms weapons. They are known to possess older AA platforms which are still effective in the hands of a skilled operator. Is it not know if they have access to heavy fire support. They are not known to have air or armoured vehicle support. Some of their troops have stolen uniforms are equipment such as helmets, grey combat clothing and basic webbing. They DO have hand held AT weapons. There are not indications of night vision equipment being the in possession of any enemy forces.
Their troops are mainly locally sourced males who have taken up arms after being promised good pay and a free hand to do whatever they please. As this turns out, many of their troops then leave BOJ after finding those promises to be false. Much of the intel provided has been from these troops that have defected.
The enemy has a very good network of spies and sympathisers who will monitor our movements and pass this information on to the BOJ elements. The enemy may probe our positions with small groups to test our reaction, our rules of engagement and our force response delay.
MISSION:
To deploy to Aliabad to disrupt enemy activity and destroy their capacity to supply, fund and train further terrorists, and eliminate their leadership elements.
EXECUTION:
OCB Combat Team Sabre will deploy into FOB EAGLES and conduct aggressive patrolling tasks to locate enemy elements.
Callsign Sierra, a two man recon element will conduct covert surveillance patrols of the region and report any enemy activity.
Remainder of CT Sabre will mobilise on receipt of information and carry out mission objective.
Deployment for CT SABRE will be via APC.
Deployment for Recon Team will be via foot.
Composition of force:
HQ Section (Callsign Alpha 10) - 1 PAX
Recon Team (Callsign Sierra 18) - 2 PAX
Combat Patrol (Callsign Alpha 15) - 10 + PAX
AFV (Callsign Delta 37) - 2 PAX
Action on Contact:
Persons who are clearly armed may be engaged
Any armed contact to be engaged
Unarmed persons are NOT to be engaged
Elements are to remain away from heavily populated civilian concentrations
Fire missions are to given with PRECISE grid to avoid collateral casualties or damage.
Sierra Recon element to deploy into AO @ 0440 hrs to commence recon task
CT Sabre to remain in FOB EAGLES until directed to move. 10 Minute warning order to be issued prior to task start.
CT Sabre will deploy on foot into AO to conduct patrols
PHASE ONE
Recon element to move to 113 feature @ GRID 015027
CT SABRE move to vicinity of Abad Village @ GRID 021022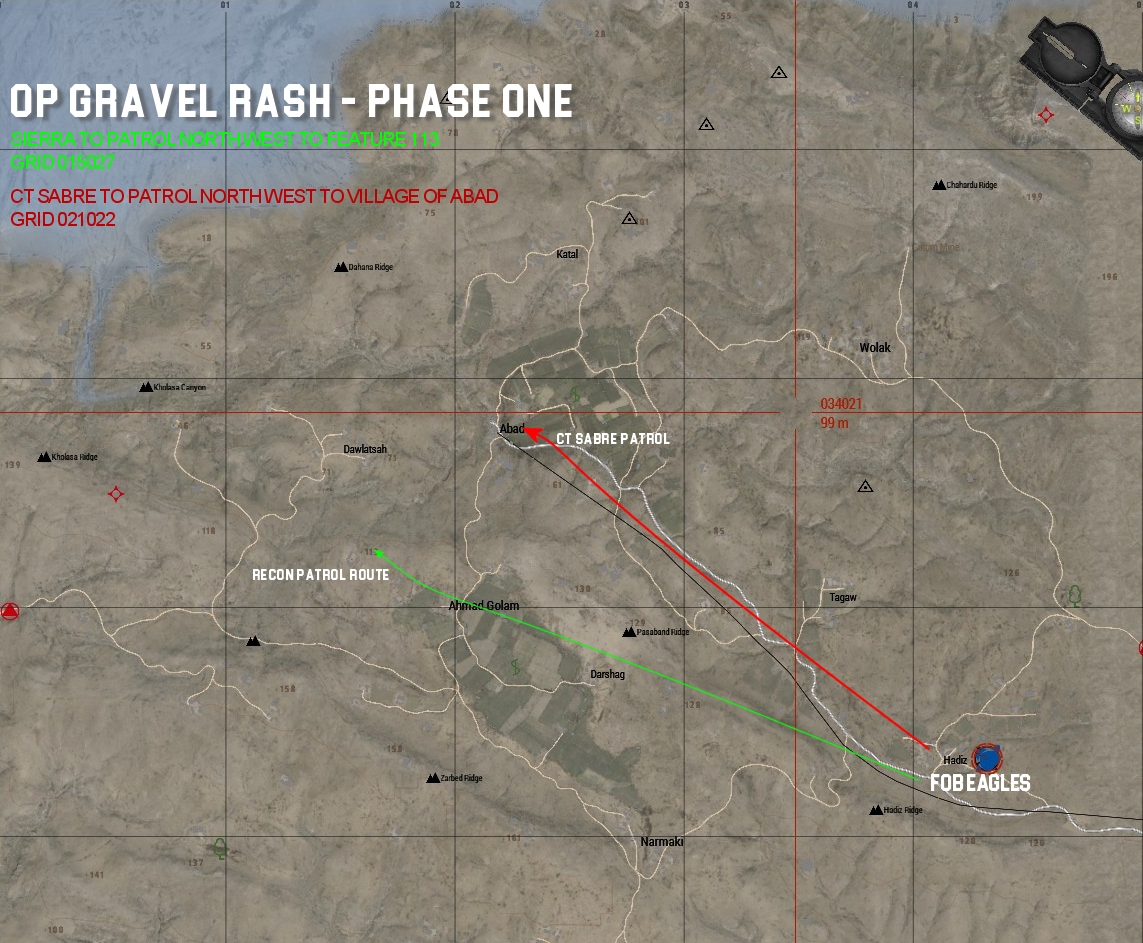 PHASE TWO
Recon element to move to vicinity of Village of Katal @ GRID 023014 and hold position
CT SABRE to move east to vicinity of GRID 030022 and set up defensive position and await further orders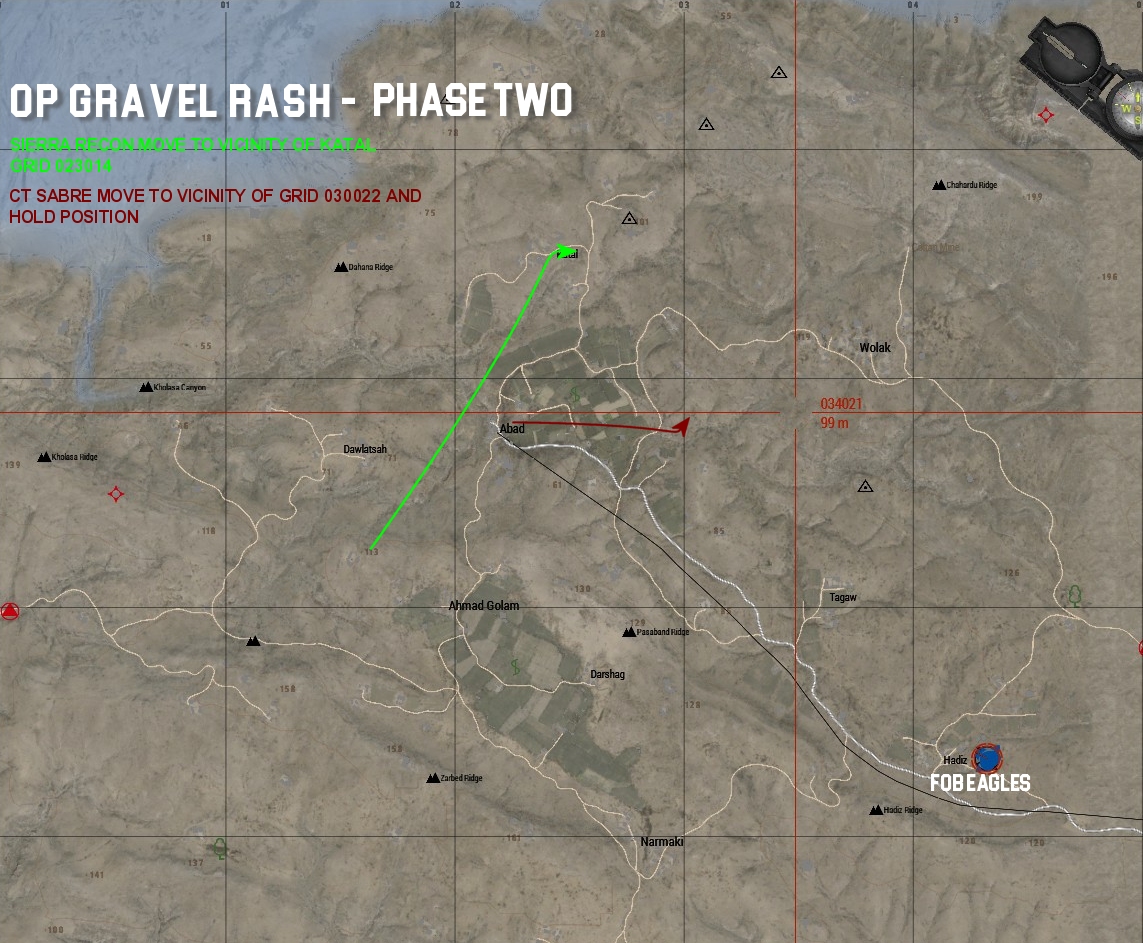 Further movements will depend on activity and any observed enemy movements or base areas identified.
ADMIN AND LOG:
A mortar team is available for fire support mission tasking at request of CT Sabre Sunray
1 X AFV available for tasking if required. (Limited fuel reserves available, so use is for critical situations only)
CT Sabre and Sierra Recon are not required for force protection, this is being performed by Logistics elements to defend FOB EAGLES
COMMAND AND SIG:
Commander of Operations: Alpha 10 - Freq 50.4
CT Sabre Patrol Commander: Alpha 15) - Freq 50.4
Sierra Recon Commander: (Sierra 37) - Freq 50.4
______________________________________________________________________________________________________
MODS REQUIRED:
Map: Aliabad
CUP Terrains - Core
CUP Terrains - Maps
CUP Units
CUP Weapons
CBA_A3
Task Force Radio
All mods available on Steam workshop.