[MK]Altis Guardians
By: [OCB]Mikoi
(ESTIMATED 30 PERSONAL MISSION)
Background Information:
Sunday, 15 January 2012
The attack of Altis begins.
0432H - Russian forces mount a dawn attack on the western part of the island of Altis taking the Altian forces off guard.
0654H - Russian forces have taken control of the Capital and most of the western coast line.
1034H - Altian forces pushed back to Agios Dionysios. Halted Russian Advance.
1620H - Altian Government requested help from Allies.
Saturday, 28 January 2012
Western Advance Halted, South Eastern Advance Begins.
0729H - Russian forces land troops in the south eastern part of Altis.
1047H - Russians take the Airfield near Selakano.
1720H - The towns of Panagia, Chalkeia, Dorida and Pyrgos have fallen to Russian Forces.
1751H - Altian Forces mount defensive action around the city of Charkia.
1814H - American Forces arrive on Altis and sets up at Altis International Airport.
2210H - American Forces move to assist in civilian evacuation around Charkia.
2348H - Russian advance halted on the South Eastern Coastline.
Sunday, 29 January 2012
Dawn of the Attack.
0330H - 31PL, Deploys forces to push back Russian Army.
0510H - 31PL, Occupies position just outside Charkia called Nifi.
OPERATION ALTIS GUARDIANS.
SITUATION:
A. Enemy Forces
1. Enemy has withdrawn towards the city of Pyrgos.
2. Indications are that the enemy are mounting a defence around the city and at the military base to its north.
3. Enemy Forces known to travel in groups of three to five personal, however Section and Platoon sized forces have been coordinating disruption attacks the last few days.
4. Enemy Forces armor capabilities are limited.
B. Enemies most likely course of action
1. Will be to defend around the military compound while sending out delaying and disruption attacks on allied forces.
C. Enemies most dangerous course of action
1. will be to mount a coordinated attack on the city of charkia.
D. Friendly Forces
1. 3PL and 4PL are currently supporting the evacuation of civilians from Charkia.
2. Armored assets are in support of evacuation efforts on Hilltop 80 and 69, North West and North East of the city respectively.
C. Attachments / Detachments
Nil
E. Civil / Terrain considerations
1. Civilian evacuation in Charkia are currently in effect. Most civilian population of Pyrgos has withdrawn to Charkia.
MISSION:
31PL is to Destroy enemy anti-air elements in vicinity of Military base Pyrgos from 290630 JAN, in order for 3 COY to regain the initiative.
EXECUTION:
31PL will mount and move via motorised elements crossing into enemy held areas at 29 0630 JAN closing upon the enemy at Pyrgos to destroy anti air assets and secure the area for advancing allied forces.
A. Order of March.
Alpha 1-2 - 2x Humvee (M2)
Bravo 2-1 - Humvee (M19) and Humvee (M2)
Alpha 1-1 - Supply Humvee and Command Humvee
Bravo 2-2 - 2x Humvee M2
B. Fire Support.
Priority command of 81-mm mortars is to Alpha lead (Two 81-mm mortars with Alpha section).
C. Engineering.
Priority of efforts is to maintain mobility to motorised assets and destruction of enemy anti air capabilities.
ADMINISTRATION AND LOGISTICS:
A. Eight Humvees are attached to 31PL, Supply Humvee has weapons and ammo for mission.
B. Medical Supplies are within Supply Humvee.
C. Supply throughout mission will be achieved via Blackhawk insertion by Supply COY.
D. Limited Vehicles.
E. Respawn at International Airport Operations control.
COMMAND AND SIGNAL:
Standard Communications
31 PLATOON:
Alpha 1-1 (Alpha)
Platoon Commander
Platoon 2IC
Platoon Medic
Rifleman (Mortar)
Rifleman (Mortar)
Alpha 1-2 (Bravo)
Section Commander
Rifleman
Rifleman
Machinegunner
Anti-Tank Specialist
Section Medic
Section Engineer
Alpha 3-3 (Charlie)
Section Commander
Rifleman
Rifleman
Machinegunner
Anti-Tank Specialist
Section Medic
Section Engineer
Bravo 4-1 (Delta)
Section Commander
Rifleman
Rifleman
Machinegunner
Anti-Tank Specialist
Section Medic
Section Engineer
Alpha 4-2 (Support Section)
Commander
Helicopter Pilot
Helicopter Pilot
Helicopter Pilot
MOD REQUIREMENTS:
Ace,
Acre2,
AllinArmaTerrainPack,
Ascz_aia_extensions,
ASR_AI3, CBA_A3,
OnlineCombatBattalion,
PRKZ,
RHSAFRF,
FHSUSAF,
USAFLite
Mission has been designed and tested in a LAN environment (6 person), needing to test on server with more personal.
Any thoughts or changes welcome.
The mission is currently up inside the TeamSpeak mission lab channel.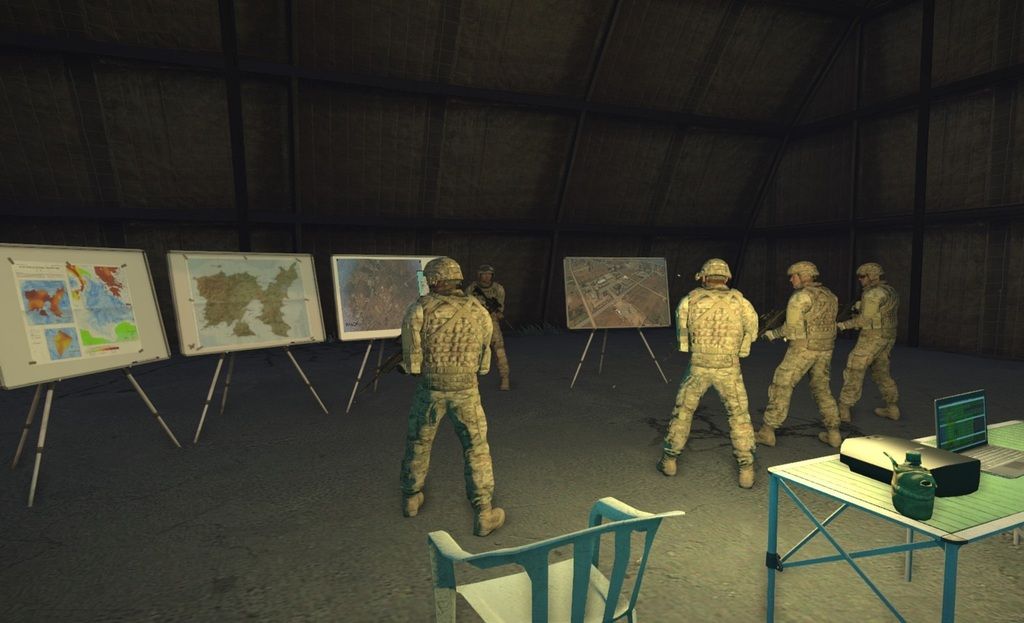 Edited by Mikoi, 05 July 2015 - 12:40 AM.